BTC TOP 3
IMPENDING BITCOIN NEW ALL-TIME HIGH
BTC FUTURES ETF LAUNCH SUCCESSFUL
Just until a few hours ago, the bears are calling out the recently approved and about to launch Proshares Bitcoin Futures ETF to likely be a buy the rumor, sell the news kind of incident. But this is nothing to worry about now, as Bitcoin proves everyone otherwise. Bitcoin is now very determined to break its all-time high of $64,804.72. The Bitcoin new all-time high is definitely imminent.
Of course, bulls and most crypto influencers do not believe this to be a sell-the-news event. Scott Melker said that even if it does happen, it will just be temporary and the bull market will commence right after that.
Alex Krüger, @krugermacro, who was one of the people who thought this might be a buy the rumor, sell the news, disagrees now. See his tweet below.
Not a sell the news event. https://t.co/e1OPg9RwZW

— Alex Krüger (@krugermacro) October 19, 2021
Will Clemente, @WClementeIII, another followed analyst/trader on the space, also gives his two satoshis on the matter.
If everyone thinks it's a sell the news event, it's not a sell the news event. pic.twitter.com/LfHrMEB3oV

— Will Clemente (@WClementeIII) October 19, 2021
With Bitcoin currently trading at $64,193.26, maximalists, investors, and Bitcoin bulls are bombing all social media networks. Undeniably, Bitcoin is set to a new all-time high.
At the moment, Bitcoin is less than 1% away from its all-time high. Do you think we're closing today's daily candle at a new all-time high?
2022 IS GOING TO BE A GOOD, GOOD YEAR
If we are expecting a crazy finale for 2021, 2022 would be even crazier than we think it would be.
Although Bitboy Crypto, @Bitboy_Crypto, has been standing strong on his conviction that Bitcoin Top would be at the end of this year, Lark Davis, @TheCryptoLark, said that "the rest of 2021 is surely gonna melt faces, it's going to be crazy but 2022 may be more bullish than anyone could possibly imagine", hinting that Bitcoin bull cycle would extend up to early 2022.
To support this analysis, here's the reference chart that shows massive, massive potential for Bitcoin on 2022.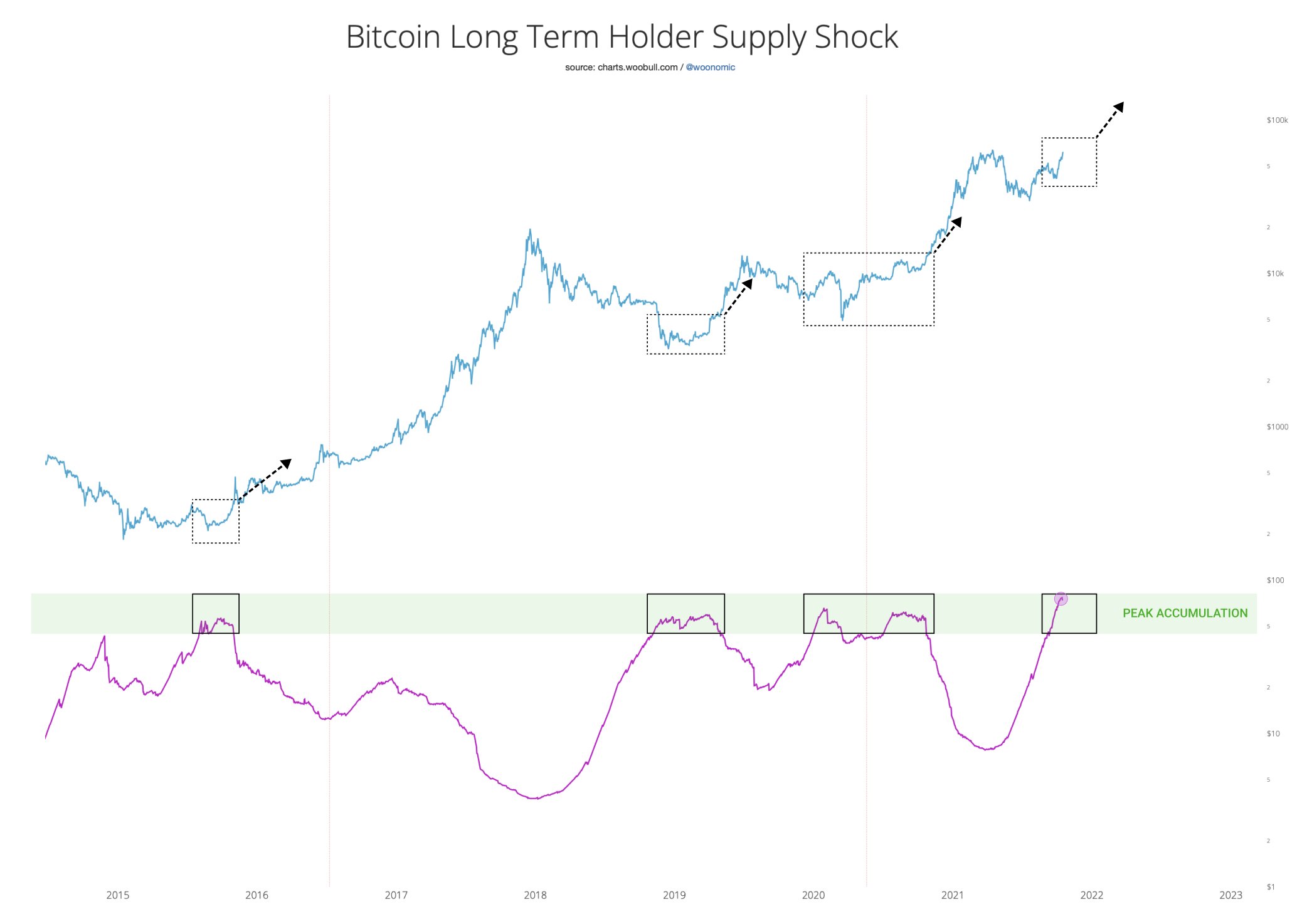 The violet graph on the chart shows the accumulation trend of long-term holders. While the blue graph above it is the price action of Bitcoin. Now, this chart shows that every single time we hit an accumulation peak has been a very very bearish period for the price action. It makes sense. Accumulation happens on the bear market.
On to the current cycle, even though we clearly feel that we are in a bullish territory now, on the contrary, we are still peaking on the accumulation graph. The long-term holders are still heavily accumulating, gearing up for what seemed to be a massive price action. Hence, we are far from over. There's still a lot of room left before the end of this bull run.
We are about to witness a series of new all-time highs. Don't be quick to sell your bags, the best is yet to come. Are you ready?
TOP 5 POLKADOT ECOSYSTEM GEMS
The hotly anticipated Polkadot Parachain Auction begins next month and this is going to be the ecosystem's time to the moon.
Here are the top 5 gems you might want to look closely at before the Parachain Auction event for massive moon potential:
Moonbeam – one of the most anticipated projects that are likely to receive a Parachain slot
Acala – aims to be Polkadot's DeFi suite, would grant all ETH Dapps the ability to deploy smart contracts and offering taking
Centrifuge – financing protocol that will allow users to tokenize real-world assets into NFTs and use them as collateral
Bit.Country – prob the most interesting project on the list. this is a project that will allow anyone to build their own metaverse for their community of supporters, family, friends, etc.
PHALA – first privacy layer project on Polkadot.
DISCLAIMER: This is not financial advice. Please do your own research.
---
ABOUT THE AUTHOR
Elisa A.
Elisa is our Head of Market Analysis at Rocket Crypto X
You can join her Slack channel to get real-time updates from the top Crypto influencers.
If you like her work, please help support the blog. Tip Elisa!
Ethereum
Donate Ethereum to this address
Scan the QR code or copy the address below into your wallet to send some Ethereum
---
CRYPTO DEALS
For more deals, check out our deals page