BTC TOP 3
BTC IN A MASSIVE BREAKOUT
50K OVER. 53K NEXT!
Just five days in October and we have seen very promising price action in the crypto market. How we struggled to get above that $48k level the past few weeks seemed to be a distant memory now that Bitcoin just easily overcame $50k and is now trading at $51.4k heading up to the next target — $53k!
Ignoring the falling trend on the stock market, BTC continues to head up to the moon. Here are the 4 factors influencing BTC to hit $50k:
Inflation Hedge (inflation expectations rising)
Institutional Flows (institutions continuously pouring money into the crypto system)
Seasonality (some investors buying on expectations that the final 3 months of the year will bring a more substantial rally, like it almost always did in the past)
ETF speculation (newfound optimism that SEC will soon approve futures-based ETF seems to be driving the market higher)
Right now, Bitcoin is trading above all key moving averages. Although technically, $50k isn't a key level but has played significantly to increase confidence in the market.
Moreover, upon breaking that descending channel which gives us the next target of $53k, there is one bigger bullish pattern, descending triangle, that if broken to the upside would lead us to more bullish price actions, perhaps heading up to its all-time high?
But still, be mindful. $53k is a resistance level that might not be crossed in one go. Retracements and corrections could still have a role even in bull markets. So, do not ever forget to take profits every now and then!
DIGITAL GOLD
We've heard this countless times that Bitcoin is the Digital Gold. But do you know why people keep mentioning gold, especially this cycle?
Aside from its volatility and its power against inflation, the charts, the current cycle is following the path of Gold way back in the 1970s in a very fascinating way!
In a tweet, it was said "Since Oct 2020, #Bitcoin has followed the 1970's gold fractal to near perfection." (see chart reference below, credits to the owner)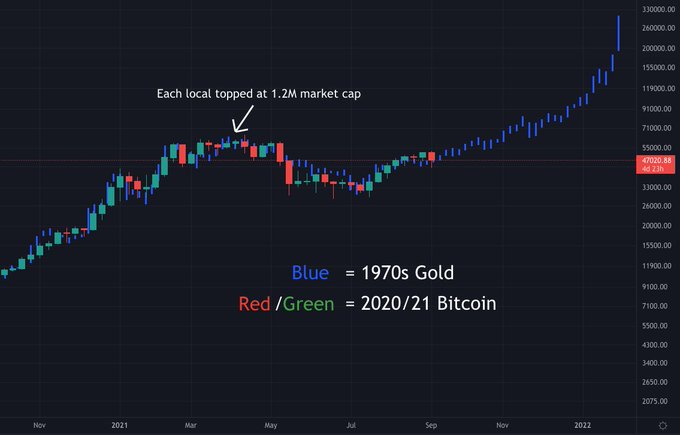 If we continue to follow the path, it suggests a lengthening cycle that would extend the market top to early 2022. Exciting, isn't it?
ALTCOIN CORNER FEAT. ETH
Now, Ethereum. YouTuber EllioTrades pointed out ETH's massive breakout pattern: a 'cup and handle'.
Can you guess how much that would lead ETH's price to? $8500! Approximately, $8500.
Now before you, bears, doubt this analysis, please do remember we are in Q4 of 2021. The year after the halving (2020) is typically the most bullish year for BTC. Furthermore, Q4 is undeniably always the most bullish period within that year.
So who isn't bullish?
---
ABOUT THE AUTHOR
Elisa A.
Elisa is our Head of Market Analysis at Rocket Crypto X
You can join her Slack channel to get real-time updates from the top Crypto influencers.
If you like her work, please help support the blog. Tip Elisa!
Ethereum
Donate Ethereum to this address
Scan the QR code or copy the address below into your wallet to send some Ethereum
---
CRYPTO DEALS
For more deals, check out our deals page